Elvis Presley's Death
What Killed The King ?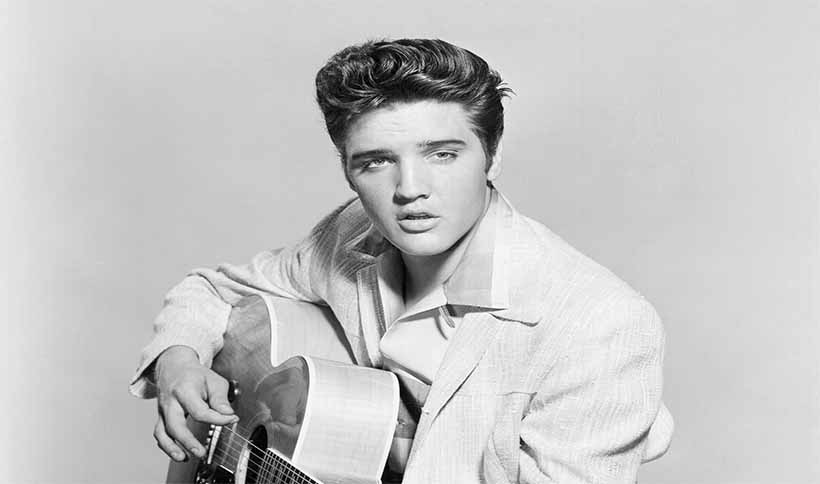 Elvis Presley, said the King, who worked for an electric company as a delivery driver, became at age 19 and in the space of just a few months one of the biggest icons of rock'n'roll music. Elvis's worldwide success is attributed above all to his extraordinary charisma and graceful swaying which made girls crazy and caused many fights in bars where he gave concerts. Elvis Presley would have been, in a way, the missing link between rhythm and blues (blues, gospel and boogie-woogie) and country music. With its unparalleled performance and excesses, the King is largely responsible for the burgeoning of rock'n'roll and is a source of inspiration for all young teens on Earth. Elvis Presley mysteriously died in the summer of 1977 from a supposed cardiac arrest; he was then 42 years old.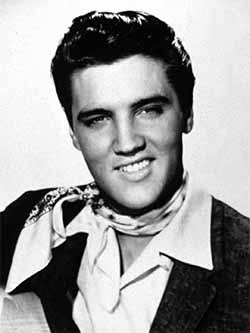 Elvis Presley's childhood and early years
The era of Elvis Presley in Tennessee is marked by a movement of McCarthyism and witch hunting. It is also the golden age of Ku Klux Klan and blacks are often denigrated. In his teens, Presley oscillates between white culture and black culture and is marked by great country stars like Hank Williams and Hank Snow. Irish-born and timid, a young Elvis Presley regularly hangs out in Beale Street boxes where he idolizes black mackerel. In high school, the King is lonely and often hums tunes alone in the courtyard. He dreams of escaping the poverty of his childhood and he sees in music his only way out.
Elvis Presley's debut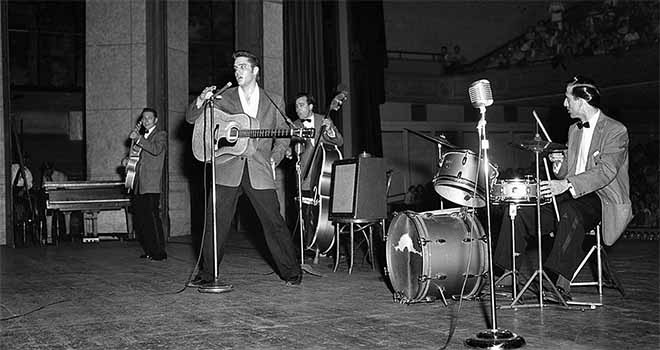 At the age of 10, Elvis Presley gave his first concert at a talent show where he won second place for his performance of Old Shep. Some months later, his mother bought him a guitar as a birthday present and it was love at first strum. In the summer of 1954, while the King was living in Graceland from odd jobs, he went to Union Avenue in Sun Studios where he recorded a small model of only two songs: That's all right and Blue moon of Kentucky. The next day, he arrives at WHBQ radio station to air his songs and they are immediately adored.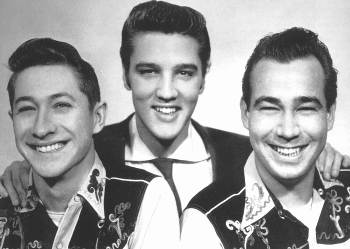 Two weeks later, on July 17, 1954, he adopts the artist name Hillbilly Cat and gives his first real concert in Memphis accompanied by the Blue Moon Boys, his two studio acolytes. His stage play, inspired by black singers performing in Beale Street's Honky Tonk, is extremely provocative and highly enviable; quarrels break out. His dressing style is also modeled from Honky Tonks: pink sweater, motley jacket, tight pants and black shoes. Elvis Presley's voice is sensational, hot and violent.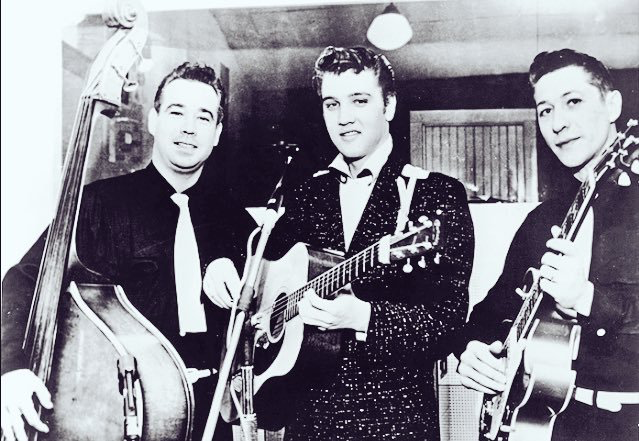 In September of the same year, Elvis Presley lives the first real disappointment of his career when he is booed at Nashville's Grand Ole Opry by a crowd of red-necks used to dance to classic country music. He shatters his guitar at the end of the concert and takes almost four days to forget the event.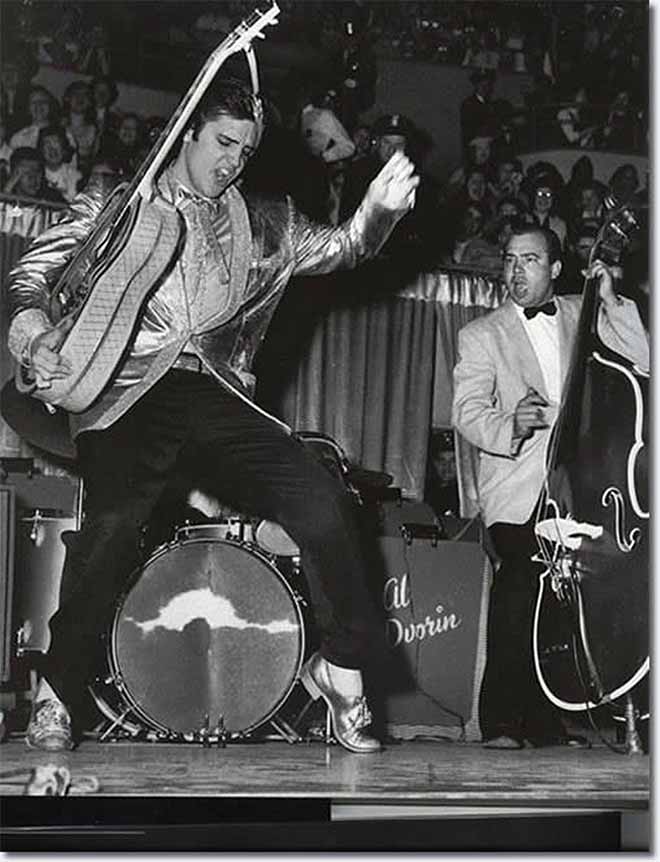 New York then Las Vegas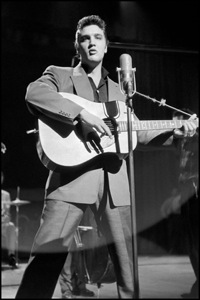 Elvis Presley's career really takes off when he travels to New York and makes several appearances on national television for CBS. It was during this two-month stay in the big apple that he recorded his famous hit Blue suede shoes. The King then stops in Los Angeles where he signs a contract with Paramount and goes on television again. The whole of america ignites and its impresario, colonel Tom Parker, schedules a concert in Las Vegas; Elvis Presley shall perform at New Frontier Hotel. But Las Vegas will be the second major failure of the King since he will be welcomed, as the Sinatra and Sammy Davis before him, by the apathy of an audience more interested in slot machines and easy money than by his marvelous performances. Elvis will then take the road again and give concerts across the country and will not return to the gambling capital of the world until 1967, where he marries Priscilla. He will also make a prestigious comeback in Nevada in 1969.
Elvis Presley 1972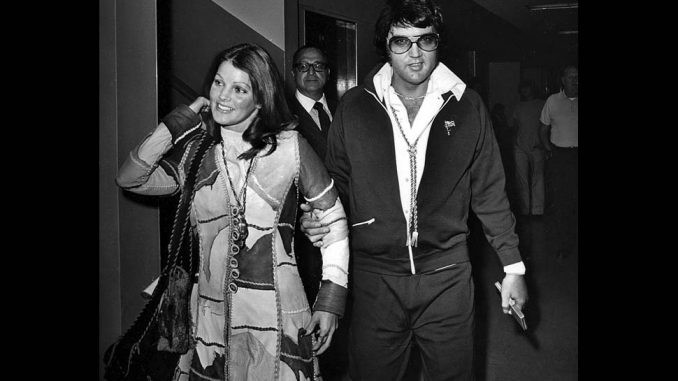 On February 23, 1972, Priscilla drops Elvis Presley under pretext that he is constantly on tour and surrounded by his friends and that she can never see him. Presley, who almost never sleeps and ingests a whole bunch of pills to keep up with the hectic pace of his life, collapses and starts to behave very oddly.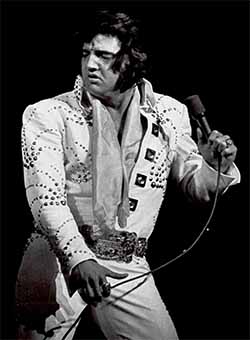 Two of his bodyguards report that Elvis Presley had a serious problem and regularly exploded TVs in his hotel rooms with a revolver that he constantly carried. He had become extremely paranoid and feared incessantly that a delusional fan would take his life. He found escape only in the practice of karate that he had been taught during his military service. Self-destructive and bulimic, Elvis Presley lives only in excess and his appearance begins to change; he is fattening remarkably and his face becomes puffy. His body is wearing out more and more. In spite of this, the King manages to prove that he is the biggest of the show-business and chains more than five hundred sold-out spectacles between 1973 and 1976.
Elvis Presley last concerts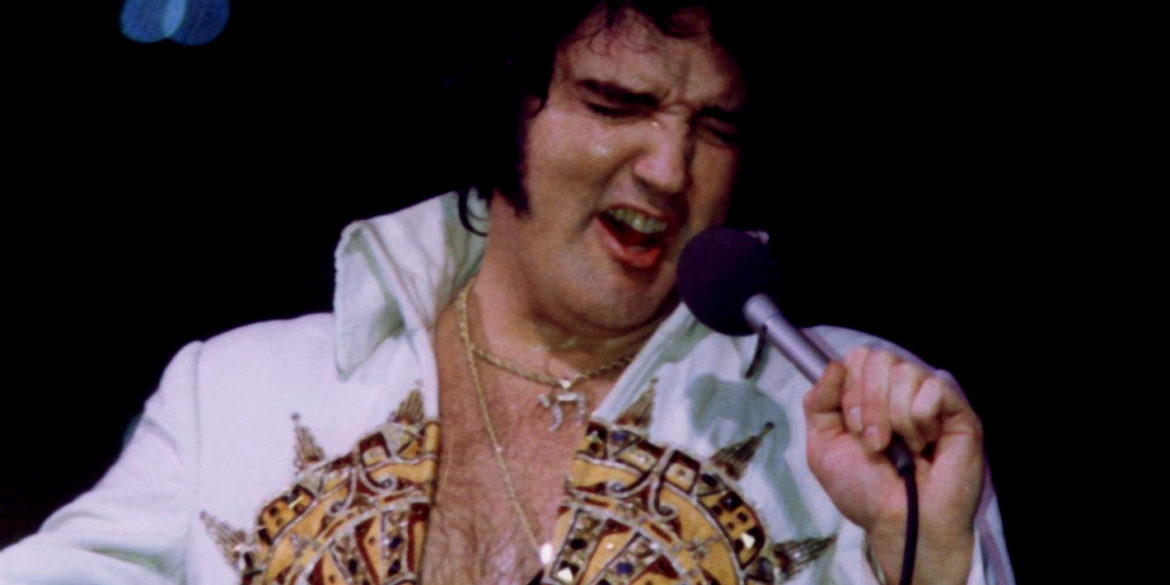 At the beginning of April 1977, after four years of sold-out infernal tours, Elvis Presley's body is at the end of the train and, suffering from a strange illness, he is admitted to hospital. Sometimes swallowing more than 100 pills a day, Elvis will still find the strenght to give concerts until the end of June 1977. The King is unrecognizable and weighs nearly 270 pounds; he can barely move. Some would say that Elvis was aware that the end was near and that he wanted to die as he had lived, in fame and debauchery.
Elvis Presley's death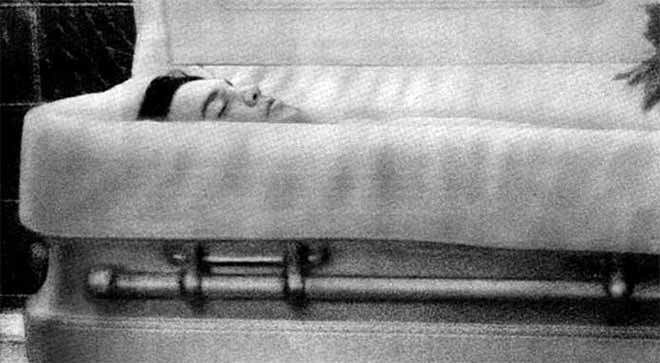 On August 16, 1977 in the early morning, Elvis Presley locks himself in his bathroom (his boudoir) with a book on psyche. In the afternoon, Ginger Alden, his last girlfriend, finds him collapsed on the floor. Elvis has a blue face and looks decidedly dead but they still try to revive him in the ambulance en route to the Baptist Memorial Hospital.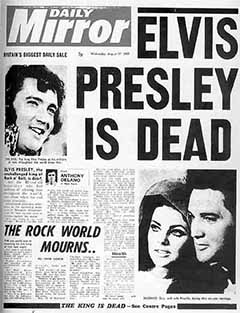 Two weeks earlier, his bodyguards had published a book - Elvis, What Happened? - recounting in detail his life of excess, debauchery and dissolute relationships and Elvis Presley seemed deeply affected by what he read. He was reportedly junkie and syringes were found in his Graceland home but autopsy reports an arrhythmia crisis (undetectable) and not an overdose.
In fact, doctors have failed to clearly identify the cause of Elvis Presley's death. A large number of theses have circulated: he would have been murdered by one of his bodyguards for an unknown reason, he would have died of constipation, he would have overdosed or even commit suicide. One hypothesis is that Elvis Presley's death is a gigantic staging; 17% of people believe that Elvis Presley is still alive and lives in Graceland.