Agatha Christie - Her Dissapearance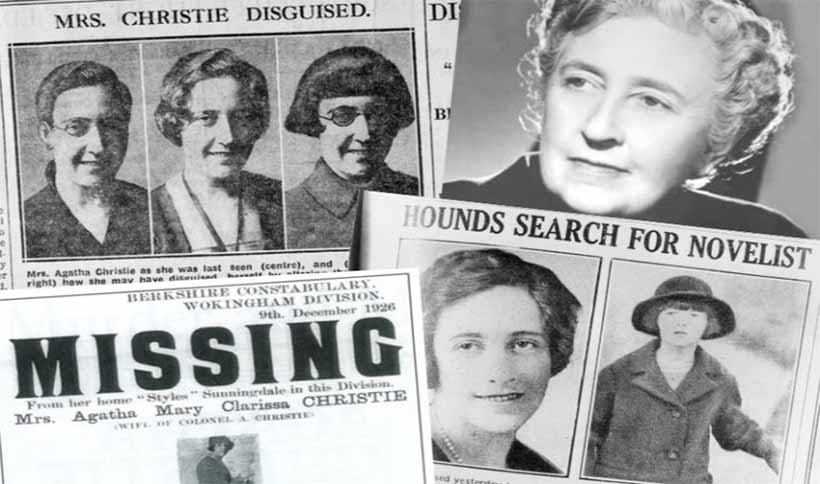 In 1926, Agatha Christie found herself in the middle of a strange affair, which seemed straight out of one of her novels, but that no Hercule Poirot, no Miss Marple, have ever elucidated.
The novelist was then thirty-six, and everything seemed to succeed. A well-known writer, married to a Great War hero, Colonel Archibald Christie, she lived in a splendid country house, which she herself described as "a kind of millionaire suite for the Savoy, transplanted into the countryside ".
The "queen of crime"
The woman nicknamed "the queen of crime" was born Agatha Clarissa Miller in 1890. At the age of twenty-four, she married Archibald Christie, an aviator of the Royal Flying Corps who was to be covered with glory during the Great War, while Agatha worked as a nurse in a hospital. Shortly after the end of the war, she gave birth to her only child, Rosalind. A year later, she published her first novel, The Mysterious Affair at Styles. In 1926, snugly settled in their Berkshire home, the Christies seemed a happy household. In reality, the long-simmering crisis between the spouses was about to break out.
A woman disappears
At that time, Agatha Christie had already published several detective novels. Her latest opus, The Murder of Roger Ackroyd, had been a great success, but also sparked heated controversy. In this novel written in the first person, the narrator conceals from the reader some essential information - and first of all the fact that he is the murderer! If the "unreliable narrator" is a classic literary process, it scandalized those who like to deduce the identity of the culprit before Hercule Poirot. The critics, they adored. Although already known, Agatha Christie was not yet famous; most of her books had sold only a few thousand copies. It was then that on the evening of December 3, 1926, she left the marital home and disappeared. Overnight, the whole country became passionate about her fate.
The abandoned car
At 11:00 the following morning, the Superintendent of Surrey Police was informed of a car accident in Newlands Corner, outside of Guildford. Mrs. Christie's Morris had just been found in a ditch, the hood sunk into the bushes. There was no trace of the driver, but she couldn't have gone very far, because her fur coat had remained in the car. In the middle of the afternoon, a pack of journalists crowded in front of Christie's home. From the beginning, the police considered the hypothesis of suicide - a theory refuted by her husband, who pointed out, not without reason, that most people commit suicide at home, and not by driving out in the middle of the night. Nevertheless, the police raked the countryside around Newlands Corner; divers scoured the Silent Pool, a nearby lake.
Secret sorrows
What everyone ignored was that the Chrsties couple was slowly falling apart. Archie had fallen in love with a woman ten years younger than Agatha, Nancy Neele. He had even announced to his wife his intention to divorce. Another stroke of fate, Agatha had just lost her mother. She was no longer sleeping, feeding herself anyhow, constantly moving furniture and objects into her house. She seemed obviously disturbed, on the brink of nervous breakdown.
Researches
The next two or three days brought no new evidence. The announcement of women's clothing and a bottle labeled "opium" in an isolated cabin triggered the rush of journalists, but it was just a false alarm: the "opium" turned out to be baking powder. Newspapers insinuated that Archibald Christie had everything to gain from the death of his wife, but his alibi was foolproof: he was taking part in a campaign in Surrey. Other journalists blamed a "publicity stunt". One of Agatha's relatives, Peter Ritchie-Calder, thought she had disappeared to expose her husband's affair with Nancy Neele. He began to peel her novels to try to guess what she would do next. The Daily Mirror offered a reward to anyone who would found Lady Agatha Christie. In vain.
The mystery thickens
The mystery thickens a little more when Agatha's brother-in-law reveals that he had received a letter from her. According to the postmark, it was posted in London at 9.45 am the day after she disappeared - in other words, at a time when she was supposed to be wandering somewhere in the woods of Surrey.
The following Sunday, in an interview with the Daily Mirror, Archibald admitted that his wife had "evoked the possibility of disappearing at will. Some time before, she had said to her sister: "I could disappear if I wanted to, organizing myself well ...". Perhaps, after all, it was something other than a suicide or a setup by the husband.
Found!
On December 14, eleven days after the disappearance, the butler of the Swan Hydropathic Hotel in Harrogate, North Yorkshire, recognized among its customers the novelist whose newspapers all published the photo. Warned by the police, Colonel Christie jumped on the first train to Harrogate. When he arrived he was told that his wife had been there for ten days, that she had taken a nice room on the first floor, and that she seemed "normal and happy": "She sang, danced, played pool, read newspapers talking about her disappearance, chatted with other hotel guests and went for walks. "
Agatha was reading an article about her when her husband approached her. "It seemed like a wave of knowledge for her, she did not know exactly who he was," said the hotel manager. "She suffers from a complete loss of memory," Archibald told the press, "and I do not think she knows who she is." The doctors later confirmed that she was suffering from amnesia. But for Ritchie-Calder, her behavior did not resemble that of an amnesiac: the day she disappeared, she wore a green woolen dress, a gray jacket and a velvet hat, and she only had a few pounds sterling in her bag. When she was found, she was smartly dressed and she had 300 pounds on her. She had registered under the name Teresa Neele, and she said she came from South Africa.
Spin off
The case leaves traces, some unpleasant, others much less. The press pinned the alleged cost of the investigation - 3,000 pounds according to her. Who would pay them? The taxpayers of Surrey made Agatha responsible for the sharp increase in taxes that year. Her new novel, The Four, was welcomed by critics, but sold nine thousand copies - twice as much as The Murder of Roger Ackroyd. And from then on, sales of her books would continue to increase. In the 1950s, prints of her books exceeded 50,000 copies; her ultimate novel with Miss Marple, The Last Enigma (1976), was immediately printed at 60,000 copies.
The ways of celebrity
The Christies divorced in 1927 - Archibald remarried with Nancy Neele, Agatha married Professor Sir Max Mallowan in 1930. Until the end of her days, she refused to talk about her disappearance, and would only give interviews at the condition that the subject is not mentionned. Her biographer, Janet Morgan, accepts the thesis of a nervous breakdown followed by amnesia. It is hard to believe, however: where did the money come from in Harrogate?
Why did she register under the name of her husband's mistress? Can a person with such severe amnesia behave in a seemingly normal way, read articles about her own disappearance, look at her own pictures, without questioning her identity?
Ritchie-Calder, who knew her well, remains convinced that "her disappearance had been carefully organized, like the intrigues of her crime novels". A TV movie produced after her death even made her disappearance part of a plot to murder Nancy Neele. One thing remains certain, the "lost novelist affair" has largely contributed to make Agatha Christie the most read English author in the world after Shakespeare!