Legend of the Chupacabra Monster
The Goat Sucker Cryptid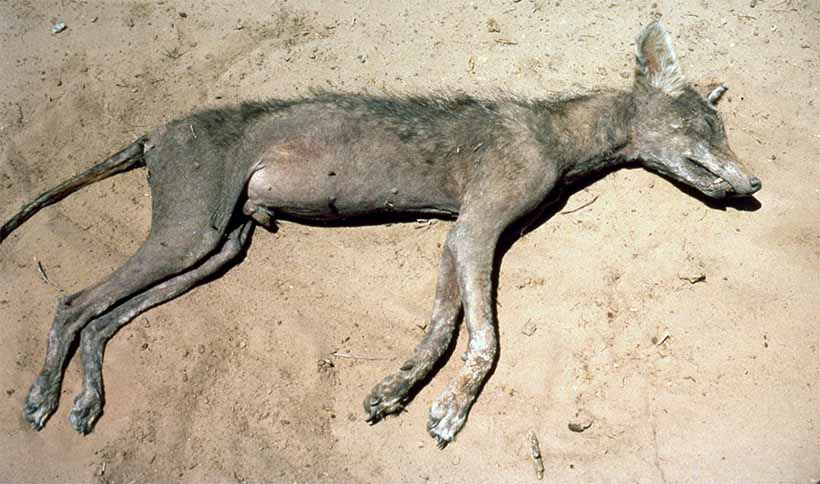 The legend of the chupacabra monster, "goat sucker", is located halfway between myth and reality. From its first demonstration in 1995, its bestial way of killing domestic animals and cattle, emptying them of their blood or removing their organs immediately attracted the attention of cryptozoologists. This animal and its origins are full of mystery and questions. Some liken these events to ufology while others see the appalling result of genetic experimentation.
Saurian, dragon and vampire at once
El Chupacabra monster made its first appearance in the 1990s in Puerto Rico. The local press attributed this name to it because El Chupacabra emptied its victims of their blood. Subsequently, this frightening entity was spotted in South and Central America, in the southern states of the United States as well as in Africa. The descriptions have important similarities: El Chupacabra monster is a creature with a black coat that roughly measures 1.50 meters, has a very marked lower jaw, red eyes, very small nostrils, a mouth made of a simple crack and curved canines. According to some witnesses, it could change the color of its skin and its back would be adorned with excrescences. El Chupacabra would also be able to run very fast and jump, both high and far. Author Vladislav Raab describes the chupacabra monster as follows: "It evokes a saurian, comparable to Deinonychus or Velociraptor. The various stories also incorporate the myth of the vampire, prevalent in South America, because corpses display the traces of classic bites, like Dracula."
Extraterrestrial origin?
Some cryptozoologists think that chupacabras are of extraterrestrial origin. Indeed, ufologist Tito Armstrong regards chupacabras as extraterrestrial pets roaming the Earth. Cryptozoologist Scott Corales describes the beast as a cross between "gray aliens" and an animal of terrestrial origin, such as a porcupine or a kangaroo. The creature, he continues, would have an activity both diurnal and nocturnal and would cause a wave of panic in other animals as soon as it approaches. But the chupacabras would also easily make themselves invisible.
The manifestation of a chupacabra cryptid is usually associated with the appearance of UFOs. Some groups even talk about an alien program, which aims to depopulate the planet by killing humans like vampires, with the aim of colonizing the planet. However, for the moment there is no human attack.
A hybrid from different species
Professor Riviero of Puerto Rico gives a natural explanation to all the deaths recorded in his country. At the origin of these massacres would be Rhesus monkeys, imported on a nearby island to experiment. These apes, he says, would only kill "for sport" and could be responsible for these strange deaths. However, innumerable testimonies invalidate this theory. Other theses evoke genetic experiments conducted by NASA and that would have slipped.
In Nicaragua, a chupacabra cryptid was reportedly slaughtered by a shepherd. The corpse would have very deep orbits, flabby skin like bats, claws and impressive greenhouses, and a sort of ridge would run along its spine. The creature looks like a hybrid of several species, but not similar to any animal known to veterinarians who have examined the remains. The director of the police laboratory confiscated the remains, so that no further information could be transmitted.