Was The Chevalier d'Éon Man or Woman ?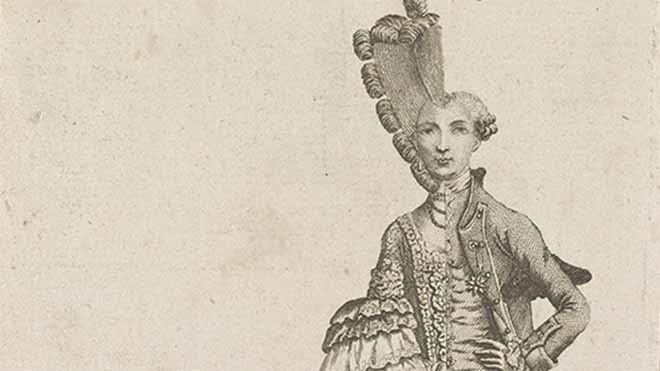 In the service of Louis XV and then Louis XVI, the Chevalier d'Éon intrigued the court: was he a man or a woman? Even today, Mademoiselle d'Éon, captain of dragons, remains an enigma for history.
A young sporty man
On October 5, 1728, in Tonnerre Burgundy, the jurist Louis Déon de Beaumont declares the birth of his son Charles-Geneviève-Louise-Auguste-Andrée-Thimothée. Strange first names for a boy: three are male, and three female. A brilliant pupil, Charles Geneviève followed the courses of the Collège Mazarin in Paris, from which he graduated at the age of 20. Faithful to family tradition, he embarked on law studies which made him a young lawyer in parliament. At the same time, he is an active and sporty man: he happily learns the art of fencing and becomes an accomplished rider.
His temperance surprises a little: he is known neither to be engaged nor have mistress and he is not customary of the escapades habitual to young men. Still, no one seems bothered by it: for all, Charles Geneviève d'Éon is a man.
A very disturbing and very beautiful girl
In 1755, the Prince of Conti, who coordinated secret affairs for the king, charged the Chevalier d'Éon with a delicate mission in Russia. He must contact the Empress Elizabeth, unbeknownst to those around her, and gain her trust. Indeed, France is on bad terms with Russia and diplomatic relations are broken: Louis XV decided to restore the situation.
Charles Geneviève is a very handsome young man, with fine and delicate features: Conti decides, for his mission, to disguise him. He made him establish false papers in the name of Mademoiselle Lia de Beaumont, and it was a young girl who took the road to Saint Petersburg. The mission is carried out in a surprising way, since the beautiful Lia de Beaumont becomes familiar with the Empress to the point that she makes her her favorite reader!
It is upon his return to Paris that one begins to ask questions. Charles Geneviève d'Éon makes a girl too perfect to be just a transvestite, people whisper. How could a man in disguise have abused a woman, when his role led him to spend a lot of time in the privacy of the Empress of Russia ? People notice at this moment that the knight is beardless and that he seems to have advantageous forms. Isn't her true nature feminine? Is it not when he is dressed as a man that he is transvestite?
In front of confused Europe, the Chevalier d'Éon remains a mystery
The Chevalier d'Éon's career continued successfully: he returned to Russia, carried out several missions in Europe for Louis XV, sometimes dressed as a man, sometimes as a woman. He becomes captain of the dragons and receives the cross of Saint-Louis for his bravery in combat. The rumors stop.
Only a man can lead troops in combat, it is believed; Joan of Arc is well forgotten!
In 1762, Chevalier d'Éon was sent as secretary of embassy in London. There, the knight disconcerts: without requiring political intrigue, he sometimes appears as a man, sometimes as a woman. Without giving his entourage any explanation, he sometimes speaks feminine.
Londoners are surprised by this strange Frenchman. Bets are taking place: for more than twenty years, many English people have bet huge sums on the sex of Charles Geneviève. In 1771, their total amount reached almost the incredible sum of 300,000 pounds sterling! The Chevalier d'Éon says he is exasperated, but is careful not to provide any precision and to misinterpret anyone.
Pressed to clarify his situation by an envoy of the king who is none other than the playwright Beaumarchais, Charles Geneviève signs a proclamation where he finally reveals his gender. We are in 1774; supported by the findings of several doctors, he declared to be a woman.
Mademoiselle d'Éon no longer supports inaction
The king then forced the former knight never to disguise himself as a man again and to keep his feminine status until his death. Bets are settled. The destiny of Charles Geneviève is sealed: he is now Mademoiselle d'Éon.
However, she cannot get used to her condition. Her sex keeps her away from the army, from business, from diplomacy. Inaction weighs on her, Louis XV is dead, Louis XVI is on the throne. Charles Geneviève d'Éon sees this as an opportunity to change her situation.
In 1777, she went to Versailles and appeared at court in her uniform as captain of dragons. She begs Louis XVI, she wants to be free to use her masculine personality again. Nothing helps, the king and his ministers Vergennes and Maurepas are adamant: Chevalier d'Éon has left the scene definitively, he will remain Mademoiselle d'Éon.
The old lady from London is a man!
Charles Geneviève d'Éon returned to London and gradually became aware of her feminine condition. She no longer seeks to don men's clothing. For over thirty years, she led the life of a respectable and aging lady. The French Revolution and the execution of the king did not change her habits: she was resigned. The old lady died in misery on May 21, 1810 in London at the age of 83. Doctors and then fifteen witnesses come to examine her body. It is that of a man.
Why did an ambitious, active, dynamic man like Charles Geneviève d'Éon then agree to spend almost forty years of his life in the role of a woman? How is it that doctors in 1774 declared the Chevalier d'Éon female ? What compelling reason of state forced Louis XV, then Louis XVI, to refuse the Chevalier a return to normal life? Why, finally, after the disappearance of the two monarchs, did Éon not reinstate his true personality? Unanswered questions ...